The rue de Londres in Paris, in the immediate vicinity of the Gare Saint-Lazare and the Carrefour de l'Europe, has its origins in the 18th century with the Tivoli park, a holiday resort frequented by Parisian high society. After its disappearance, the entire neighborhood underwent a great upheaval to meet the population growth and housing needs.
This street of the 8th and 9th districts of Paris, 510 meters long, starts at the n°1 of the rue de Clichy and ends at the place de l'Europe.
History of the rue de Londres in Paris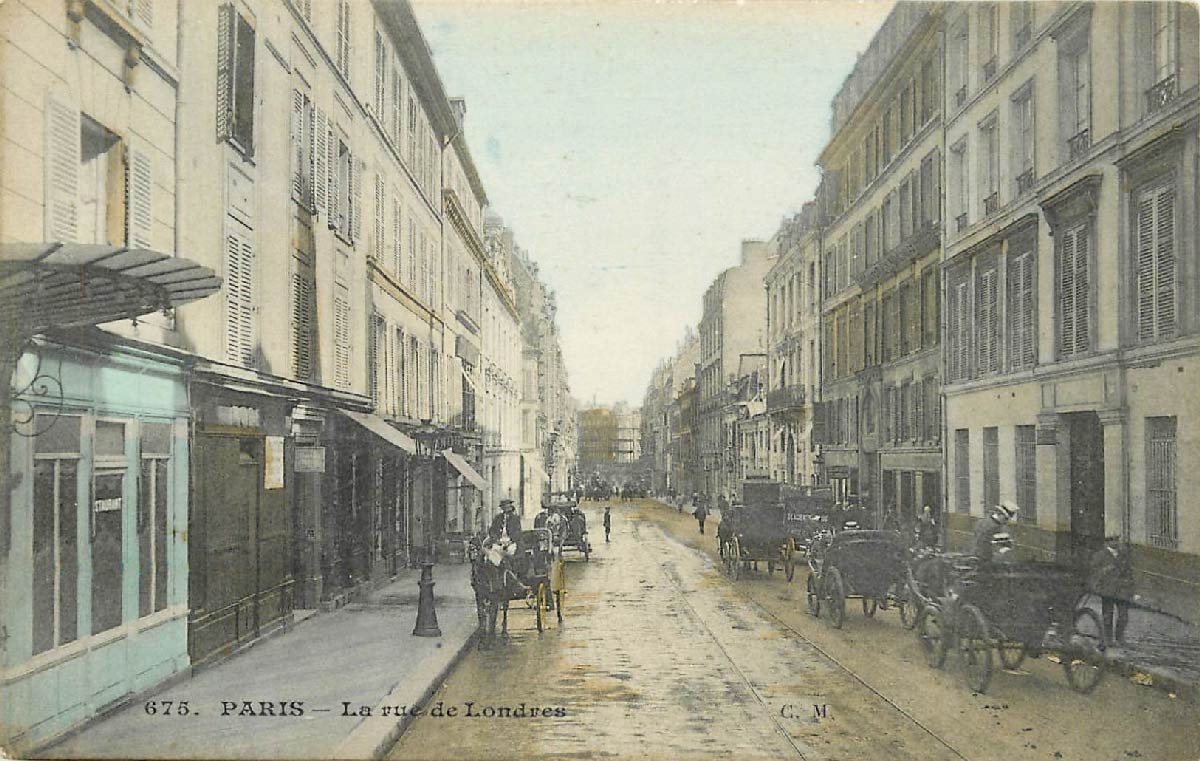 The rue de Londres – 510 meters long – is located in the VIIIth and IXth arrondissement in Paris and more precisely in the Europe district. This district was created at the beginning of the 19th century by two land speculators: the Swedish banker Jonas-Philip Hagerman, and Sylvain Mignon, locksmith to King Charles X. They developed a star-shaped plan centered on the Place de l'Europe, around which they drew a network of 24 streets bearing the names of major European cities: Madrid, Vienna, London, Berlin (which became Liège in August 1914!), St. Petersburg (which changed its name according to the ups and downs of Greater Russia: Leningrad, Petrograd…) and Constantinople (because Turkey was already knocking on Europe's door…).
Rue de Londres was one of the first streets to be opened up and where elegant private mansions were built, with facades decorated with colonnades and bas-reliefs. Aristocrats and high finance personalities settled there.
At number 2 rue de Londres, was the former brothel where Amélie Élie, a famous French prostitute, known in the Apache milieu of Paris during the Belle Époque as Casque d'Or, ended her career.
According to Émile Chautard (1864-1934, French-born American actor and director), she was a common prostitute "stinking of mouth at fifteen paces. In 1952, his story inspired Jacques Becker's film Casque d'or, which made the actress Simone Signoret famous.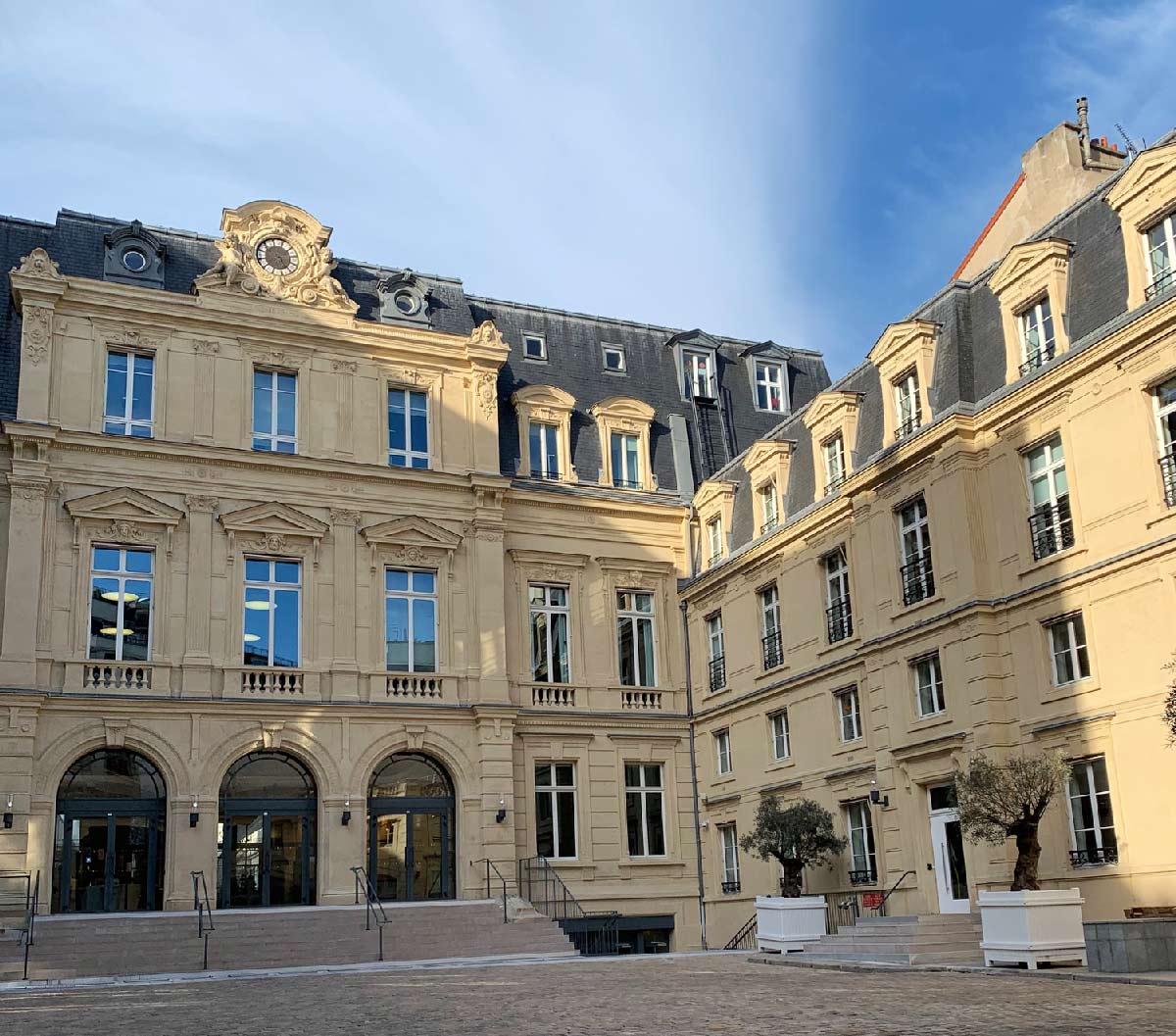 In 2011, the headquarters of Google France moved to 8 rue de Londres in the Hotel de Vatry, after a meticulous restoration and modernization of the spaces.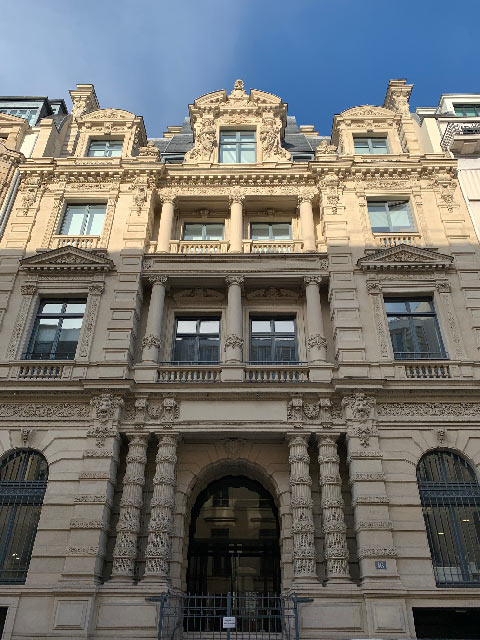 The former Crédit de France building at no. 16 rue de Londres was built in 1881 by architect Jean-Jacques Revel, who designed the building in an eclectic style, combining Ionic columns, pilasters, pediments and neo-Renaissance friezes on the façade.
Since 2021, the Franco-British Chamber of Commerce and Industry has taken up residence at 22 rue de Londres. This private and non-political organization aims to support French and British companies in their development on both sides of the Channel through its business network.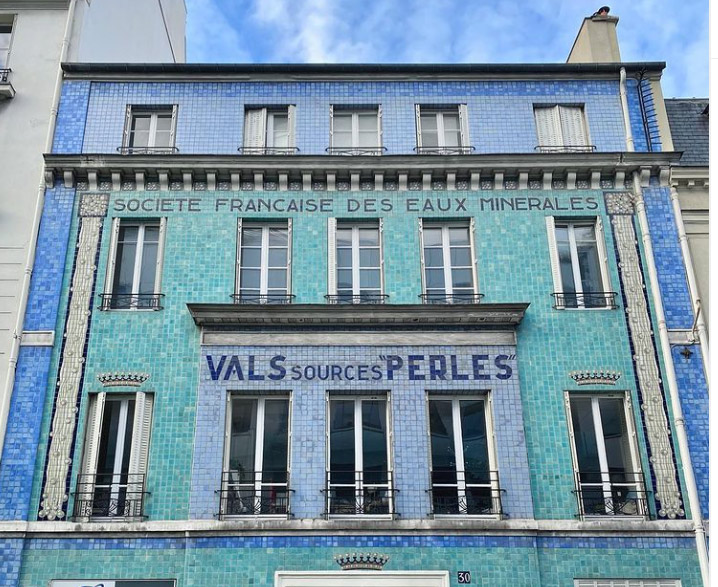 At 30 rue de Londres, you can admire the amazing Art Nouveau façade of the former headquarters of the Société Française des Eaux Minérales of the spa town of Vals-les-Bains. It is made of blue and green glazed ceramic reminiscent of the decorations of spas or public baths. This atypical facade was decorated in the 1920s by the Fourmaintraux-Delassus factory, which developed the process of "grès grand feu", resistant to bad weather because it is not gelling and is particularly well-suited to the ornamentation of facades.
This façade is the only Parisian example of Fourmaintraux-Delassus' productions.
From the rue de Londres to the Cité de Londres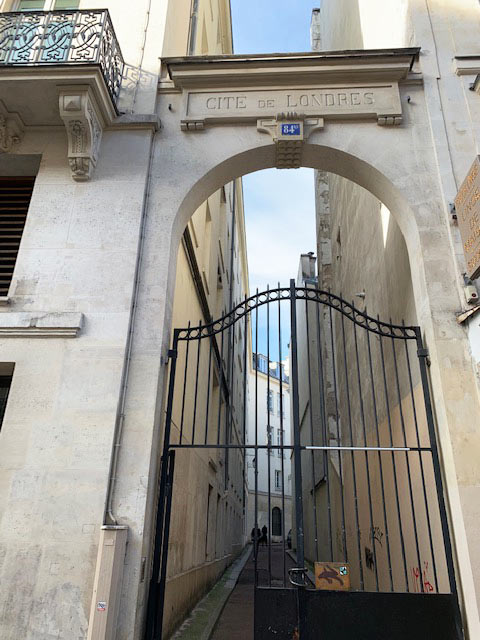 The Cité de Londres is a passage that connects the eponymous street to the rue St Lazare. It was formed in 1840 by a certain Tessier, owner of the land under the name of "passage de Londres".
The personalities who lived in the street of London
Frédéric Millet (1796-1859)
In 1855, the painter Frédéric Millet and his wife Eugénie Rioult lived at 33 rue de Londres. Milet is the author of numerous portraits and miniatures.
Hector Berlioz ( 1803-1869)
Composer, conductor, music critic and writer, Hector Berlioz and his first wife, the Irish actress Harriet Smithson and their son Louis, left the Montmartre district and settled in 1834 at 34 rue de Londres.
In September 1836, the family moved to 35 rue de Londres before living at 31 rue de Londres until 1844, when the couple separated. Of these three addresses, only n°34 still exists today.
Gaston Serpette ( 1846- 1904)
Gaston Serpette, a composer and conductor in vogue during the Second Empire, lived at no. 4 rue de Londres.
He composed opera-bouffes, operettas among which: La Branche cassée, Le Manoir de Pic-Tordu, Le Château de Tire-Larigot, Adam et Eve, Les Demoiselles du Téléphone…
Claude Debussy (1862-1918)
Through his original writing, Claude Debussy is one of the fathers of modern music. After a short stay in Rome, at the Villa Medici, Debussy settled in 1887 with his mistress Gabrielle Dupont, called "the Lady with green eyes", in a modest apartment at 42 rue de Londres.
Alphonse Liébert (1827-1914)
Naval officer and photographer, Alphonse Liébert set up his studio at 6 rue de Londres from 1864 to 1906. He is known for his numerous pictures of personalities, political and cultural events but also for having been sued by Alexandre Dumas père who demanded the withdrawal of a photograph showing him with his mistress.
Stanisław Julian Ignacy Ostroróg (1863-1929)
Stanisław Julian Ignacy Ostroróg also known as Lucien Waléry, Stanislas Waléry and Laryew is a British photographer of Polish origin.
In 1883 in London, he became very famous following the portrait of Queen Victoria of which he was the author and became the official portraitist of the British royal family, but also of very prominent personalities such as Louis Pasteur and Sarah Bernhardt.
Around 1900, he opened a studio in Paris on his own account and in his father's former premises, at 9 bis rue de Londres. He focuses on art photography and experiments with the figure of the model, in new framing, lighting and staging. He also had great success with his series of photographs of Josephine Baker, published in 1926.
London Lover photo shoot at London Street
After a first photo shoot in the Bagatelle park, chosen for its bucolic setting reminiscent of London's parks and whose history is linked to Great Britain, I was looking for another Parisian location echoing the British capital. For lack of being able to travel to London, it was essential to find a British touch in the heart of Paris!
As chance would have it, the plaque on rue de Londres near Place de l'Europe has been decorated with a Union Jack background since May 1, 2021: one could see a cordial agreement!
This ephemeral customization is the work of Jean-François Caillarec who has redecorated some Parisian street furniture and revisited some street signs of the capital. You can discover her creations via her instagram account: @haveaseat_paris
Where is the rue de Londres in Paris?
Rue de Londres starts at 1, rue de Clichy and ends at Place de l'Europe.

Are there any other London streets in France?
The cities of Calais, Le Touquet-Paris-Plage, Loos and Strasbourg also have a street named after the British capital.
About Eric Pothier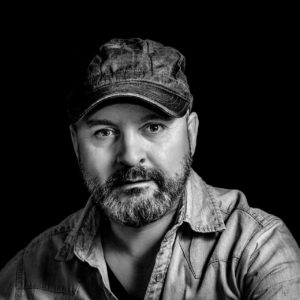 Eric Pothier is a professional photographer in Suresnes and expresses his art as well within the framework of weddings, family photos, portraits, as in the corporate world for the development of a trade.
If you have a personal or professional project, contact Eric who will be happy to advise you.
Visit his website to discover his photos and to tell him about your projects: https: //321photo.fr
Share This Story, Choose Your Platform!